As the Whitney Museum of American Art gets ready to exit this building, it seems quite fitting that they would go out with a retrospective teeming with controversy, just like their move. Jeff Koons' retrospective has over 150 pieces of work and spans from 1978-to present.
Jeff Koons creates incendiary Art.  His work and subject matter have, and always will be, provocative and evocative. Koons himself is the consummate "Explorer" of commercialism and consumerism. Whether it is Hoover vacuums displayed as modern marvels in Plexiglas vacuums to his inflatable plastic flowers, Koons takes the ordinary and displays them as extra-ordinary. These rooms filled with vacuums and household appliances compel me to reference Marcel Duchamp, who was the pioneer of taking mundane objects and displaying them as Art. One can't help but think, if Duchamp and Warhol could create a love child, out would "POP" Jeff Koons!
His fascination with consumerism and pop culture permeates his career. Through out his career, Koons has been a catalyst for morphing the mundane into hyper- realistic versions, which make the viewer awe struck. He took the objects we coveted as children and turned them into larger than life objects—for example his enormous pile of Play-doh, the exaggerated Mylar balloon figures, the eerily large kitsch figurines, and a gigantic train set. Oversizing these objects shows the proportion of importance and fascination we had for these as children. I appreciate that the scale of these objects has us discarding our jaded adult eyes and forces us to see these objects with the perspective of a child, thus experiencing the visceral memories of child-like wonder.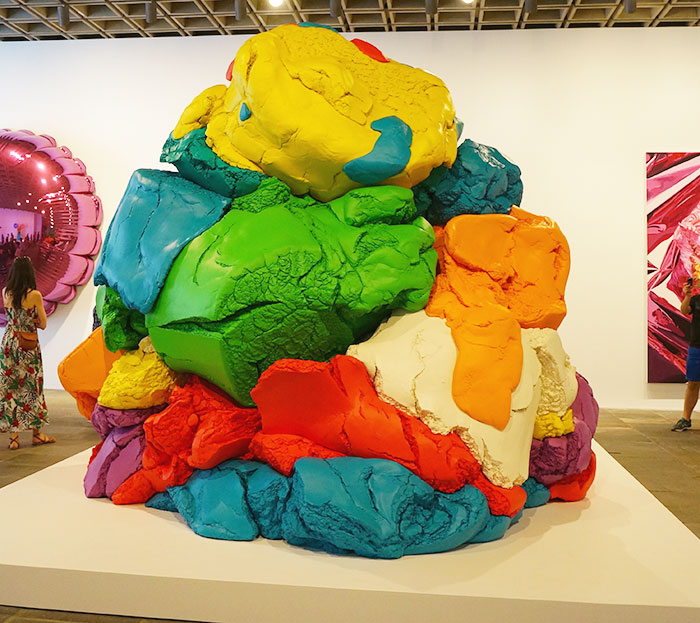 As we depart from the displays of childhood, we are then thrust into adulthood during his Made in Heaven days (1989-1991).  Here as a provocateur of commercialism, Koons has presented his sex life for public consumption.  These works graphically display his relationship and sexual relations with La Cicciolina, Ilona Staller, a Porn Star, Member of Italian Parliament and then wife. La Cicciolina's fairytale like-anime beauty makes these very banal sexual acts have the illusion of fantasy. The private made public and ready for our consumption.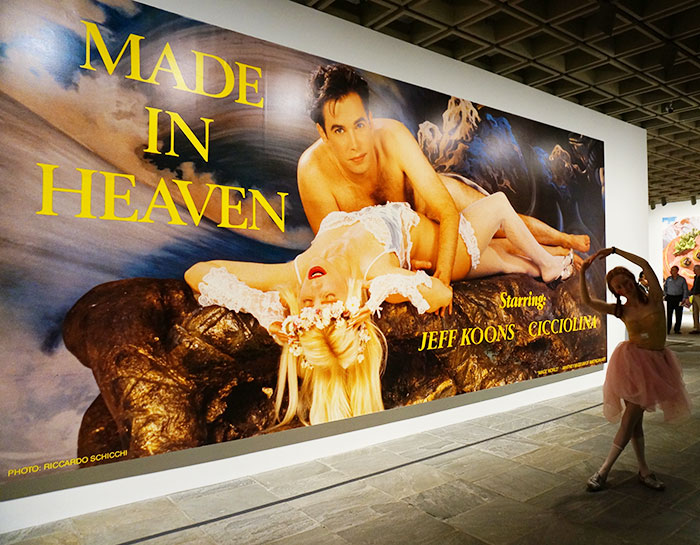 The retrospective spanning 4 floors not only takes over most of the Whitney, but also immerses and envelops the viewer into Jeff Koons' world, which is like a giant rollercoaster ride titillating your artistic, emotional, sexual and commercial senses.  I suggest you buy the ticket and take the ride…it's worth it!
The exhibition is currently at Whitney Museum of American Art, 945 Madison Avenue at 75th Street until October 19, 2014. If you miss it in NYC, then it will be traveling to the Centre Pompidou, Musée national d'art modern in Paris (November 26, 2014–April 27, 2015) and then to the Guggenheim Bilbao (June 5–September 27, 2015).