Reem Acra's Fall 2016 RTW show was sheer brilliance! And when I say sheer, I mean most every garment was sheer in someway, shape or another. The best characteristics of the Courtiers of Europe, The Show Girls, and The Roaring Twenties Flappers all combined into one of the most sexy, breathtakingly beautiful, and impeccably detailed collections.
Art Deco was clearly the inspiration here. The Art Deco influence was seen in a multitude of Geometric shapes, such as triangles, trapezoids, zigzag, chevron patterns, and extensive soaring circles. These the Geometric elements are all seen in this collection's details and design. Whether it was the inserts or the appliqués, the Geometric shapes and undulating circular shapes all danced the roaring twenties down the garment.
There was one showstopper after another. The victory here was in making these barely there and often-sheer garments look so outstandingly elegant. The embroidery, embellishment, and lace were used to make designs on the garment and often read as jewelry. There was also an edgy element of straps and almost harness like jewelry on many of the garments. The juxtaposition of the geometric details and the silk charmeuse or tassels added a fluidity and cascading water element to the otherwise angular and architectural designs.
The footwear was a geometric spider like design, which also read as faceted jewels. Some stayed at the ankles while others climbed up the leg to the knee. Reem Acra's aesthetic, sense of elegance, beauty, and femininity, all coalesced and exuded from each design. Truly the show was literally a gorgeous gasp a minute!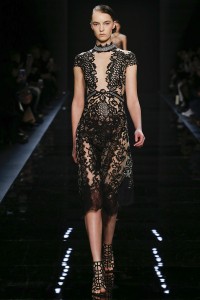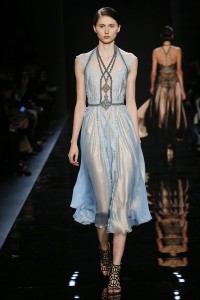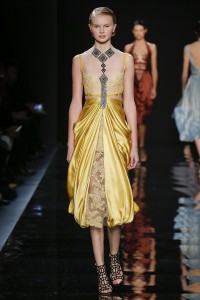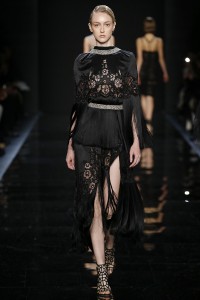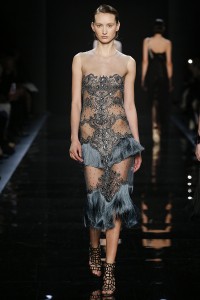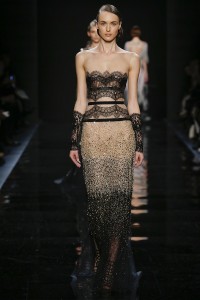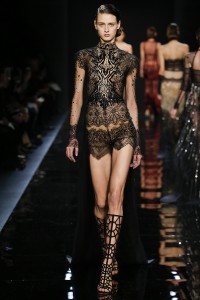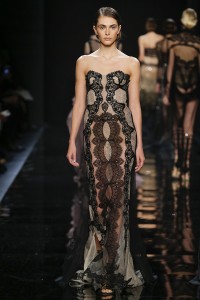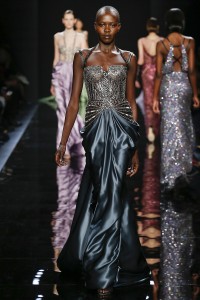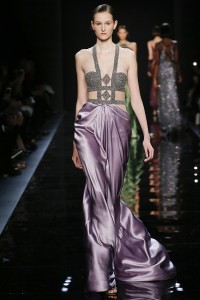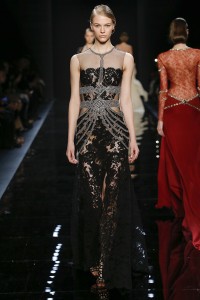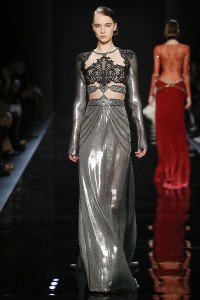 All images courtesy of Vogue.com