If this is what happens when a Designer goes into the desert, has a Vision Quest, and comes out birthing a hugely creative product, then I think every designer should follow suit! Retro-Desert could have been the title of this collection. The inspiration- The Desert, served as a literal backdrop for Alberta Ferretti's Spring 2016 RTW. The film of the Desert rolling during the show combined with the chanting music was hypnotic and took us directly into Alberta Ferretti's Vision Quest.
This collection was absolutely gorgeous and had a distinct Moroccan feel to it, from the silhouettes to the fabrics to the patterns. The patterns were evocative of Zellige tiles, which use intricate Islamic geometry and are very predominate in Moroccan architecture.
The collection spanned everything from short shorts to maxi dresses to tailored skirts to free-flowing A-line dresses. Alberta Ferretti took us from the more casual approach of short shorts and shirt combinations, which were very "Festival Girl" to the long maxi dresses, were evocative of 70's jet set Morocco Talitha Getty. It quite literally went to safari sportswear for a brief moment, but then went back to the signature Ferretti: feminine, flowing, and very detailed.
Most of the collection was in an earth toned color palette, which drew its inspiration directly from the desert: browns, rust, umbra, ochre, sienna, beige, and black. Cream and white were also present providing contrast. I always love the combination of black and brown- I know people think it's verboten, but if you do it the right way it is absolutely stunning.  I loved all the different textures throughout the show this year: woven, patchwork, lace, flowing, and then a butterfly-like-feather texture at the end. Alberta Ferretti always designs with the perfect proportion of: feminine, flirty, sexy, and delicately detailed garments that always flatter the female form.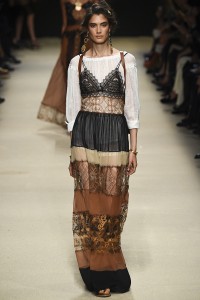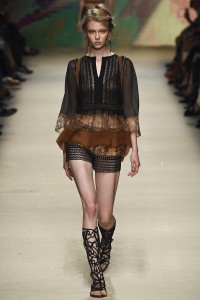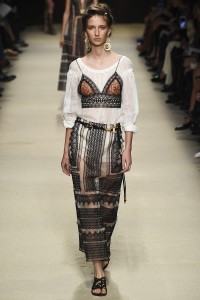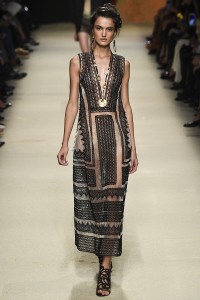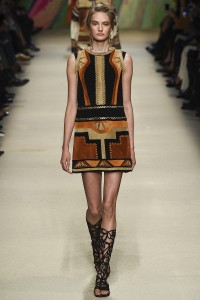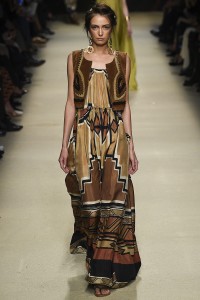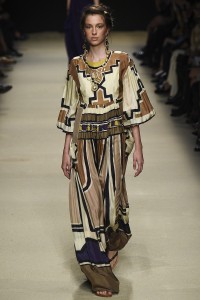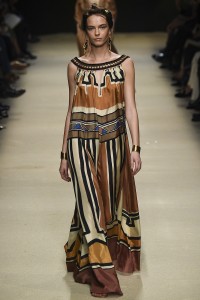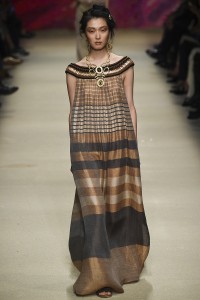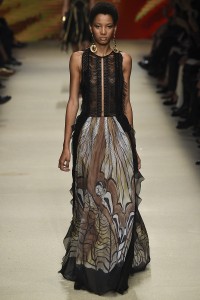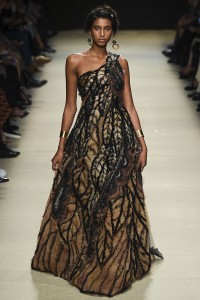 All images courtesy of Vogue.com