Fluid, flowing, and fabulous! Area's Spring 2016 RTW collection really was a stunner. It's the product of collaboration between Beckett Fogg and Piotrek Panszczyk. It is a mixture of 70's meets Louis XIV meets the future. If I had to make a conjecture, a beach would have been the inspiration. Water and sand are echoed through out the collection in form and in the color palette. From the garments, which take form fitting to a new level and literally look like poured water over the body to the ruffles in garment and sleeves, which echoed sand dunes. This was also carried out in the texture of the fabrics, which went from a shimmery incandescent blue of water to a sparkling sandy beige to an elevated 3-D dot texture of sand and blush.
I enjoyed the details and styling choices. Such as, the elongated arms, which were either a version of a sleeveless high fingerless glove extending beyond the hand or the ruffle down the arm or over the wrist à la Louis XIV. The detached sleeves were standout for me- adding interest, detail, and drama to a little more severe silhouette, so it still read as ultra feminine. This was evident in the pieces, which were more tailored, such as the plunging V-neck short sleeve maxi dress or the strapless long double side-slitted dress. As for styling, the shoes through out the collection were the perfect mix of Louis XIV and the future. The square toed mule adorned with the signature Louis XIV jeweled buckle had a very modern heel of two Lucite cubes.
I think if I had to give this collection one word it would be FLUID. Everything flowed- even the separates and then there were the items where there are actual waves-ruffles everywhere. Poured over the body, were the plunging necklines and wrap garments reminiscent of the 70's. Area reinterpreted the silhouettes of the 70s and the ruffle of Court clothing and made them sometimes asymmetrical and always modern. The futuristic fabrics took these elements of different Eras to a new AREA.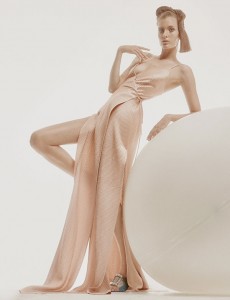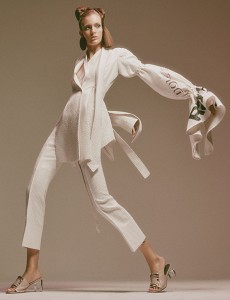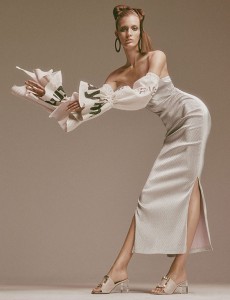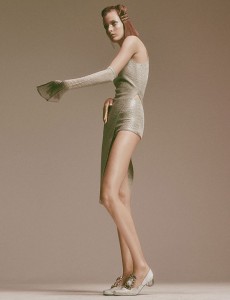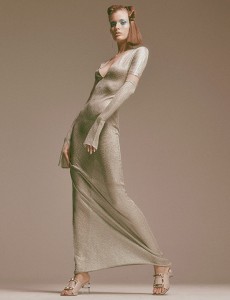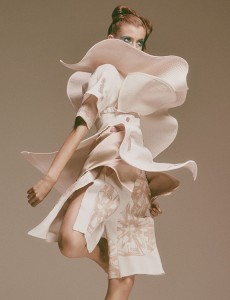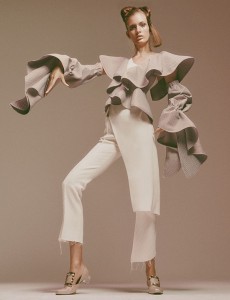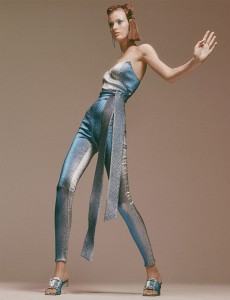 All images courtesy of Vogue.com