An Australian + an Austrian = A Fabulous Paris Fashion Week Show. Kym Ellery's eponymous collection was truly a standout at Paris Fashion week.
The designer is the child of an Artist and as her website bio states: "Ellery was born into a creative household. She grew up surrounded by the Art of her Mother; a New Zealander who worked in Textiles, Print Making and Ceramics." It is no surprise that Kym Ellery is extremely artistic, has attended the best design schools, understands the human form and executes her designs with perfection. It is fitting that her inspiration for the Ellery Fall 2015 RTW collection was an Artist. It was Austrian Artist Egon Schiele's edgy, often twisted, angular and dark nudes, which served as the impetus and "mannequins" for this collection.
In Ellery's Fall 2015 collection the trumpet shapes trumped the boxy looks. Ellery's stand out items where the trumpet shaped elongated pants and sleeves. The stunning use of all black, white, black and white or black and red was also similar to the color pallet of the Egon Schiele Paintings. Ellery's more muted peach, grey and patterned pieces were less dramatic, but not less beautiful. I particularly loved the tunic with the flared arms and hyper-trumpeted-flared pants. Another look, the overcoat with the wide flared pant was really fashion forward, while remaining utilitarian. I also enjoyed the shorter trumpeted pants look in which the flare flowed out from the knee. The ultimate everything trumpet-flare was the all white look with the blue top with belled arms and a belled hem which all culminated into the silhouette of an actual shape of a bell.
There was quieter beauty in the less dramatic pieces where there was a slight A-line instead of a trumpet shape or flare. One characteristic of the collection was the uniformly high waistline, which also lent to elongating the lines, and thus gave the silhouette a dramatically liquescent look.
I definitely think that these trumpet shaped pants are an Ellery signature and served as the Launchpad from which we see the collection evolving: from the sleeves to the hems of tops and tunics into the skirts and then into cropped pants. The tunics, flared pants and large accent pockets are all very 70's taken into a modern day.
Clearly Kym Ellery understands the human form and how to make it look dramatic yet sleek at the same time.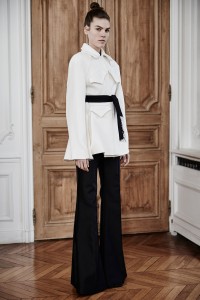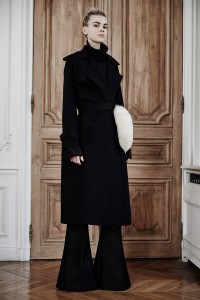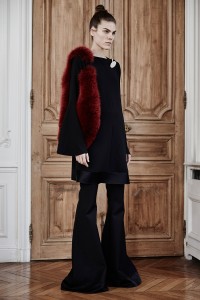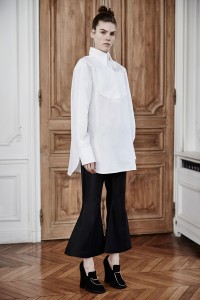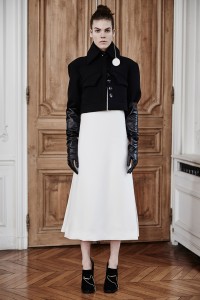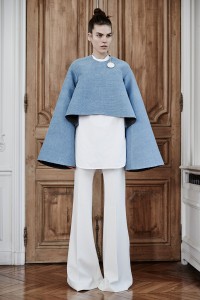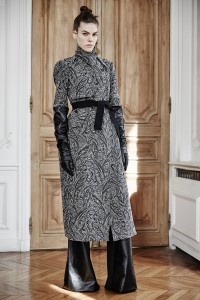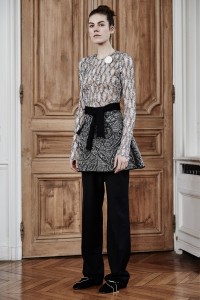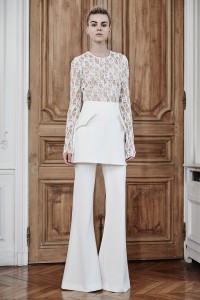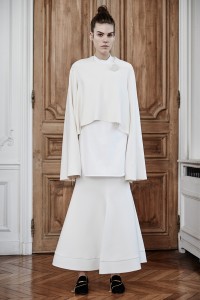 All image courtesy of Style.com