Fendi | Milan Spring 2016 RTW
Fendi Spring 2016 RTW Collection was a woven, whip stitched and harnessed to perfection. Most of the completely body-conscious dresses all had cut outs on the side at the waist, which made them look like two pieces joined with the centerpiece. Even though the dresses have cut outs on the side, they are wearable, interesting, and completely pretty. This cut out detail throughout the collection added uniformity and was a cohesive way to show this sexier silhouette could have so many incarnations.
Clever combinations of edgy and feminine were what attracted me to this collection. Most midi length dresses aren't necessarily sexy, however when Karl Lagerfeld is in charge of the silhouette, they are. The juxtaposition of the sleek silhouette, which was linear, combined with a poufy-sleeved feminine top was where the cleverness occurred. The dramatically large grommets along with the thick whip stitching, and the oversized pockets are the details, which added a harder edge to the pieces that would otherwise have read super feminine. I found the use of the harnesses were really unique, different, and definitely provided a harder edge and interest to the otherwise ultra feminine and more quiet pieces.
And then, I must mention, there were the court pants, which were actually a fun alternative to shorts. There were a few items with a woven yolk detail that read as a necklace or Victorian detail, which was an interesting addition to an otherwise classic piece. The color palette went from bold red to its various incarnations-persimmon, orangey-red to cranberry. Then came the blues, which went from cobalt to midnight to dark denim. And finally there was moss green, java brown, and black. I enjoyed the tonal journey through each color vignette.
Happy 50th Anniversary Fendi and Karl Lagerfeld; you are a match made in Fashion Heaven. Or as the Italians toast: Cent'anni! (100 years!) Yes please!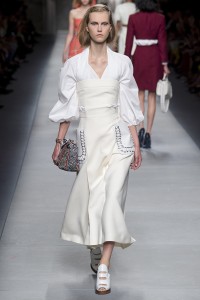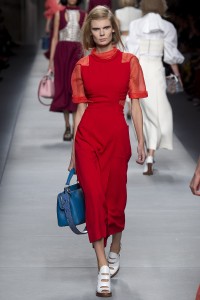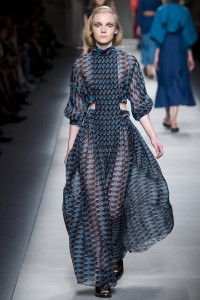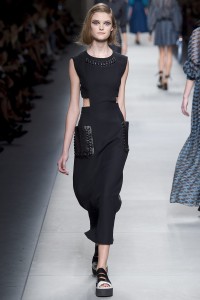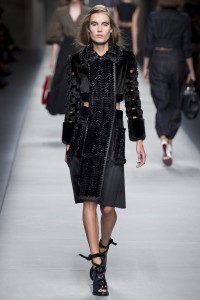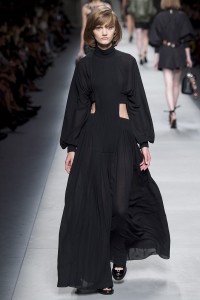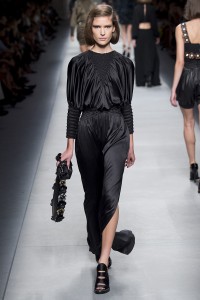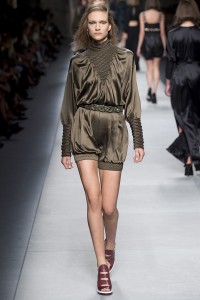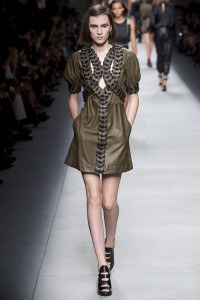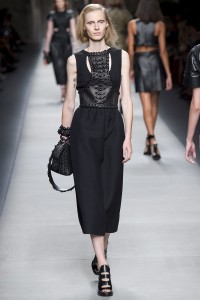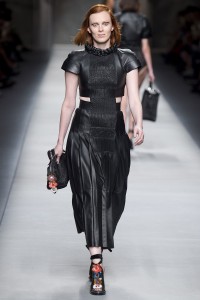 All images courtesy of Vogue.com