The beauty in Yigal Azrouël's Spring 2016 RTW collection is the juxtaposition of the very soft fluid fabric mixed with the tailored lines. Even when the garment is all lace, mostly see-through, and a body contouring design; there is something very alluringly feminine and lady like about it at the same time. The Collection is a unique balance of elegance, lines, and appeal. The garments were in all black, Yigal Azrouël's signature black and white, blue and black, all black with vibrantly colored embroidery, and muted tones of: peach and grey.
I like that there is this one detail that echoes and serves as a common tread through out the collection. The detail is a vertical rectangular insert. It makes a graphic statement and serves to contour. It also gave an interesting starting point for other lines. The insert alluded to and is a modernization of a Victorian ruffle neck meets Native American breastplate. It is seen in the clothing as a fabric or a lace insert. It appears in each color vignette and in different clothing items. The juxtaposition of the black Victorian ruffle neck on the Wedgewood blue all lace strapless dress successfully gave you demure, modern, and sexy in the best possible way.
Other Yigal Azrouël design details were present, such as the cape-sleeve and the cut out shoulder. I was very pleased to these two signature design elements, as they happen to be favorites of mine.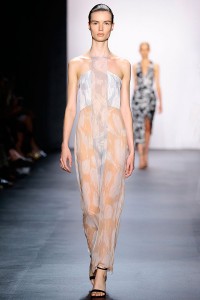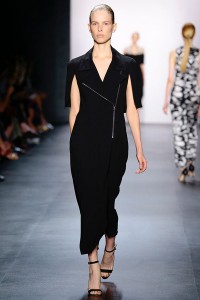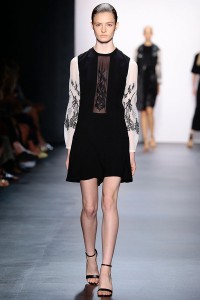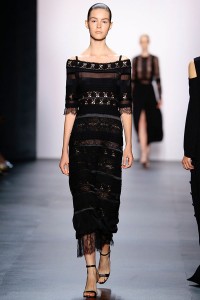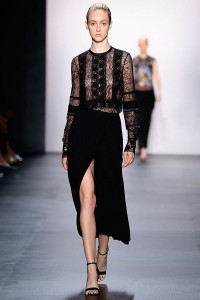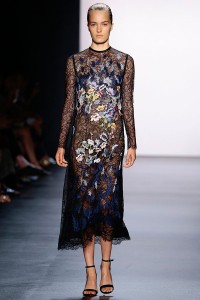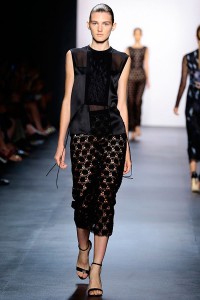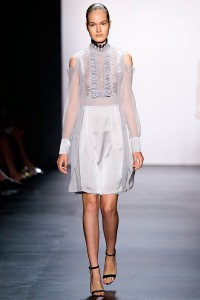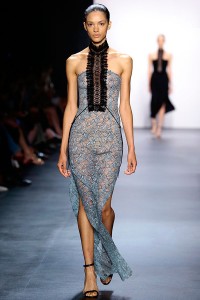 All photos courtesy of Vogue.com.