Art Nouveau ("New Art") was considered to the forbearer of Modernism. The designs, art, furniture and textiles were all inspired by the sinuous lines of nature. The swirling and undulating flowers, vines, pods and leaves all curved to form what is known today as Art Nouveau. Antonio Marras' collection was filled with Art Nouveau textiles and detailing. This can be seen in his clothing especially in the blue pieces and it is also echoed throughout the collection. Most of the patterns are strictly Art Nouveau motifs that he has reinterpreted with his own signature. The graphic fabric, color combinations and their placement all coalesced into the spirit of the Art Nouveau movement, as it was placed on his "Modern" silhouettes.
In the first vignette of the collection there was a distinct blue color evoking Alice in Wonderland and Marie Antoinette's iconic dresses. I know you can picture the exact color in your mind. Speaking of Marie-Antoinette…I do like his modern interpretation of the corset. Here Antonio Marras has taken out the utilitarian boning and actually placed the corset over the clothing. There are Corset-shirts, corset-blazers, Corset-tops. The Modern Marie-Antoinette blue suit had sleeves, which morphed into fingerless gloves, while ruffling emerged from her bodice, wrapping around her shoulder and climbing down her arm, like the most sensual vine. The corseted black blazer with tight elongated arms and asymmetrical hem was shown with an elongated pencil skirt with a Victorian ruffle hem and was finished off with short chunky rain boots. This very feminine outfit was less fussy due to the details and styling.
The applique, ruffling and fur detailing all lent a note of  old world luxury to the more contemporary pieces. The exaggerated lapels and often boxy pieces were all about showcasing the stunning graphic patterns. The juxtaposition of the feminine florals and the more modern shapes made a peculiarly perfect pairing.
The more menswear-suiting pieces of pinstripes and dark fabrics always had an applique or ruffle to add femininity and sensuality to something, which would have read androgynous.
The more peachy, cream, burnt orange colored pieces brought to mind the Master of Art Nouveau, Artist Alphonse Mucha. His paintings and iconic ads were filled with these colors. This vignette of women look like they were straight out of his paintings: dreamy, ethereal with swirling patterns all around and on them.
The Styling was unexpected and exceptional. For example, pairing the heavy and sometimes furry boots, shoes and sandals with the feminine pieces. Leather gloves were predominant through out the collection and are usually considered precious, but here they read as edgy and went from opera length, to short to fingerless in a wide array of colors.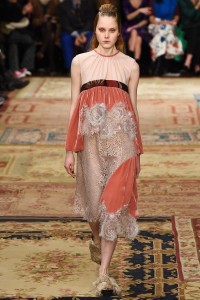 All images courtesy of Style.com